Vaping and electronic cigarettes are supposed to be less harmful than regular smoking. In most cases, that information is desireable but not true. There are problems that are known to be associated with vaping and electronic cigarettes. If you or someone you know is experiencing difficulties, you will want to contact a personal injury lawyer at Ktenas Law.
With the Centers for Disease Control and prevention warning about the use of vaping, people are listening. There have been more and more cases of people suffering from breathing problems after vaping and the warnings are starting to work. They are currently looking into 200 cases that are causing people a lot of problems. As these types of cases increase, vaping lawsuits are on the rise. At Ktenas Law, we specialize in dealing with vaping lawsuits on a regular basis.
What Are The Harmful Effects From Vaping?
The problems with electronic cigarettes and vaping were not told to people. Now, the Control Centers for Diseases and Prevention know that this can cause people to have breathing problems and adverse reactions. They are also finding that manufacturers like Juul are to blame. Lawsuits are being filed all the time. Here are some of the problems that can occur from e cigarette use and vaping:
Lung Cancer
People that develop lung cancer from vaping are at an extreme disadvantage. Cancer can render them unable to work and perform other daily activities. They were using e cigarettes and vaping in place of regular cigarettes to avoid the harmful effects that could cause cancer. This is where a lot of lawsuits come into effect.
Heart Disease
E cigarettes are now also blamed for heart disease. It can cause difficulties for a person in many ways. The use of e cigarettes and vaping can put an enormous strain on the heart. A person can have all types of problems from this and they need to visit their doctor on a regular basis. Since they didn't know that it was bad for them, they had no idea what was causing their symptoms.
Asthma
Breathing problems can get so bad that a person can develop asthma. Asthma is hard for people to deal with and they will generally inhalers to help them. Even though asthma can be controlled with modern medicine is still is a problem that affects the performance of daily activities like running or walking.
Chronic Obstructive Pulmonary Disease (COPD)
Another problem with the use of e-cigarettes is COPD. People have a lot of struggles when they are afflicted with COPD. It makes their life miserable in so many ways. This has been another cause for e-cig lawsuits and our law firm is adept at handling them.
Vaping Lawsuits In Illinois
Illinois has seen quite a bit of vaping lawsuits. The City of Chicago was in a lawsuit against 16 retailers that were selling electronic cigarettes to minors. The award was $550,000. The manufacturer of electronic cigarettes is also at fault and many people are filing lawsuits against them.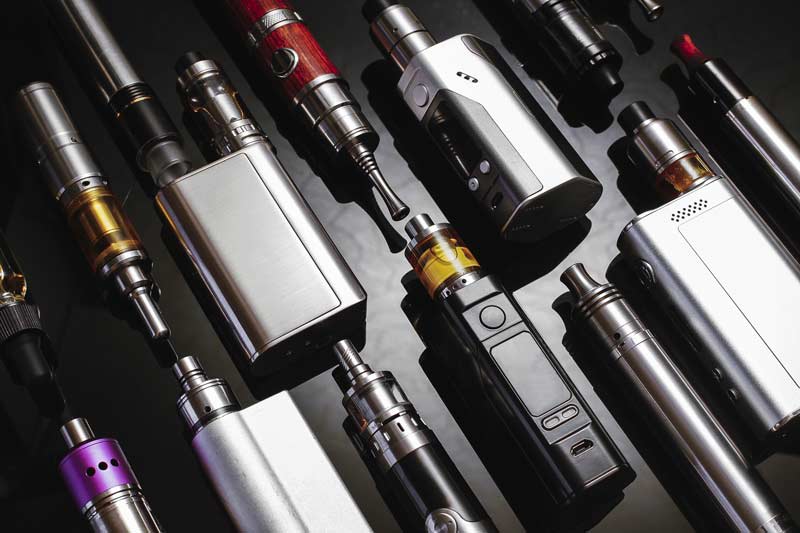 There are more and more cases that are becoming known about the suffering of people from the use of e-cigarettes and vaping. In one case, a young person died. This is triggering many more lawsuits and we are able to handle them. There are other lawsuits occurring because of the sale to minors by companies like Juul and they are being brought to court on a regular basis.
Can I Sue my E-Cigarette Manufacturer?
At Ktenas Law, we specialize in handling e-cigarette lawsuits. We know the effects that can be caused by the use of e-cigs and vaping. We encourage you or anyone that you know to contact us as soon as you notice breathing problems. Our experts will discuss the case with you so that you will receive the highest award for your suffering.
With the experience and skills that are needed, our experts are winning cases all the time. They are able to take the points and present them in a court of law in order to win. Since you will be in expert hands, you will not have to feel pressured or lost during the process. We are there with you every step of the way to win the vaping lawsuit for you. You will have our undivided attention and support when you need it the most.

Find Out if You Qualify for a Vaping Lawsuit Now
At Ktenas Law, we want to know that we are available for you. We feel strongly about filing lawsuits aimed at protecting and helping the people that were hurt from e cigarettes and vaping. If you or anyone else you know needs our services, feel free to contact us at your earliest convenience and schedule your free case review.