Real estate issues can cause a lot of problems unless you hire the right attorney to help you in the litigation process. You might be thinking, why do I need a lawyer to help me get a house? Well, to answer your question, the contracts, risks of fraud, sellers backing out, illegal ownership, tenant problems, and many other scenarios require the skills of law experts, and therefore, you need an attorney by your side.
When it comes to real estate, there is no better place to find your real estate attorney than Ktenas Law. Our company is based in Chicago, Illinois and we offer residential and commercial services at affordable rates to our clients. We pride ourselves on our customer service and our availability to our clients.
Wondering what kind of legal services you might require? What do you need to hire a real estate law consultant? How different real estate issues work out? We'll be answering these and many other questions to guide you through the real estate litigation process.
What is Real Estate Litigation?
To make things easier to understand, any legal process involving real estate is considered real estate litigation. If you encounter problems ranging from simple real estate ownership to complex tenant disputes, come to us and we'll have you covered.
What are the Real Estate Problems That Require Litigation?
There are many situations and reasons for which you may need to contact us for legal help other than buying or selling your home. For your ease, we've listed some of these reasons here.
Breach of Real Estate Contract – Whether you signed a contract for commercial or residential real estate, if the other party breaches the contract, we can bring them to justice and make sure you get what you were promised.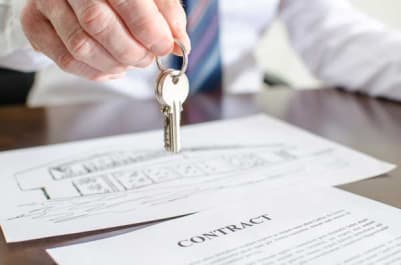 Landlord/Tenant Disputes – In case of issues with your landlord or tenants, our experienced attorneys can guide you through the eviction process and best protect your interests.
Zoning Issues – Issues relating to the division of land pieces being used for different kinds of commercial or residential use are called zoning issues. Since we know about the zoning laws of the state, we'll be able to help you in any zoning issue you might be encountering.
Encroachment – If anyone illegally intrudes your personal real estate space or tries to go beyond their boundaries, you can file an encroachment lawsuit against them and we'll help you get justice.
Title Disputes – Who should the ownership of the deceased's house go to? This and many other title disputes can be solved legally if you're willing to come to us and seek our assistance.
Mortgage Problems – Mortgage issues and disputes are very complex. If you don't have much knowledge about them, you can suffer a lot. Contact us and we'll solve your mortgage issues within no time.
These are just some of the common real estate issues faced by people that can require litigation processes and the help of real estate attorneys. These and many other problems can easily be solved with the help of our trusted and dedicated teams of lawyers.
What are the types of Ownership and Title Holding?
Depending upon the contracts, the titles can be held in many different ways, some of them according to Illinois law are,
Tenancy in Common – In such a case, co-owners of the real estate hold an undivided interest in the property and transfers can occur over the property possessed by the tenant. There is no right of survivorship.
Joint Tenancy – The owners have an undivided interest in the property and transfer can occur without the agreement of all parties. If one tenant dies, their ownership is transferred to the survivor.
Tenants by Entirety – This can only be done by legally married spouses. Neither one can transfer his/her interest without both parties. If one spouse dies, the property automatically goes to the surviving spouse.
Who Needs Legal Assistance in Real Estate?
Whether you're a buyer, a seller, a tenant, a landlord, a real estate agent, a developer, or a lender, you may require legal assistance for your real estate needs. You may be someone who's looking to buy a new house and wants legal advice. You might be a college student who wants to get a new apartment for the school year. You might be a Seller, looking to upgrade or downsize. In these cases and more, we're here to assist you with all your legal needs and ensure that you receive the best customer service and experience for your real estate needs.
Now to answer some of the common questions that people might have regarding real estate.
How can an attorney help in the purchase or sale of real estate?
Gathered all your life savings and you're ready to buy a house? The contracts might be complex to understand and you might require a real estate expert to help you. In such a case, all you have to do is contact us and we will break all the key points down for you, make sure you don't get scammed, and that all your interests are entertained.
Perhaps you're trying to upgrade and want to sell your current house. The whole process of real estate transactions might be a little difficult to handle. Need an expert to help you? We're here to help.
What to do if the other party backs out of a sale?
In such a case, they will be violating the rules of the contract and will be responsible for a contract breach which can land them in legal trouble if you have the right attorney by your side.
What do I need to close a deal?
In case of buying, you must bring identification, proof of insurance, and required funds for the down payment while closing the deal.
If you're a seller, you need a photo ID, keys, and any other legal documents that your attorney would like you to prepare and bring to the closing.
Why choose Real Estate Lawyers over Litigation Attorneys?
Litigation attorneys tend to be much more expensive. Hiring a real estate attorney from our company Ktenas Law will significantly save your money as compared to hiring from other companies. Our costs are incredibly affordable. Our real estate lawyers decrease the chances of any post-closing dispute. When there are lesser chances for post-closing disputes, you won't need to be charged extra money for legal processes after the deal.
Litigation lawyers usually look for a more self-beneficial deal when fighting your case whereas we care about our customers and make sure that they are the benefiting party out of all involved parties. Our sole purpose is to ensure our clients get the best deals and they're not at a loss when they make big decisions regarding real estate in their lives.
So, after answering all the basic questions that you might have had, we will suggest that you contact us for your real estate litigation needs right now. No matter how complex your deal might look, our attorneys will look at every possible bend and make sure the necessary modifications are done so that you can save your money and time, remain calm and enjoy the big decision of your life.
You might think that you will be able to get the best deal by yourself without any legal help, but on the other hand, the parties might be conspiring to con you with their contracts and so. In such a case, you should hire a professional attorney from Ktenas Law who will make sure your end of the bargain is kept up and you get the real estate deals of your dreams.

Why You Should Hire Us As Your Real Estate Attorney In Illinois?
Gathered all your life savings and ready to buy a house? Perhaps you are ready to upgrade and sell your current house. Real Estate transactions are complex and oftentimes the largest transaction a person will experience in their lifetime. For this reason, it is recommended to have an experienced attorney guide you through the home buying or selling process. Here at Ktenas Law, let our experienced attorneys guide you through your real estate transaction and keep you informed throughout the process.
Our attorneys will review and explain the contract to you and make sure that you understand the terms. We will ensure that the terms of the contract match your understanding of the deal and make any modifications as necessary. We will also help negotiate repairs, review and clear title, coordinate the transactions with all required parties (title companies, lenders, brokers) and guide you through the closing process.