The general rule is that a person who is disqualified to have a CDL is not allowed to drive a CMV. If a driver is disqualified, an employer is not allowed to permit or allow him or her to drive. That is why both the driver and the employer should be aware of the grounds for disqualification in order not to commit a violation against the law.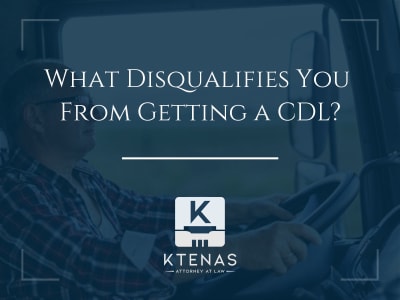 Commercial driving requires a high standard of care that is why the Federal Motor Carrier Safety Administration (FMCSA) requires truck drivers to have their CDL. However, there are instances when a person is disqualified to get one as provided in 49 CFR 383.51 of the FMCSA regulation.
There are four types of disqualifications – disqualification for major offenses, disqualification for serious traffic violations, disqualification for railroad-highway grade crossing offenses, and disqualification for violating out-of-service orders
What felonies disqualify you from getting a CDL?
Under the influence of alcohol
A CMV driver who drives under the influence of alcohol is mandatorily disqualified. The offense pertains strictly to CMV, not personal vehicles. However, there are instances when such offense is applied to personal vehicles depending on the standard imposed by the State.
Moreover, the 0.04 percent limit is also implemented to disqualify CMV drivers especially if they reach or even exceed the said limit. This is true to any person with CDL, even if the CMV driver is off-duty. It means that the same is applied regardless of the duty status of the driver.
Related: DUI Penalties For Commercial Drivers
Under the influence of a controlled substance
In Illinois, the mere possession of a controlled substance is considered as a felony punishable by law. Under California Health and Safety Code, it is illegal to be under the influence of a controlled substance and such act is an offense for a misdemeanor.
That is why a CMV driver who is found to be under the influence of a controlled substance as provided in the Controlled Substance Act (CSA) or cannabis as provided in the Cannabis Control Act (CCA) shall be disqualified from getting a CDL for a year, as the minimum.
Refusal to take an alcohol test
According to FMCSA, if a driver refuses to submit himself to an alcohol test, or perhaps drug test, it is assumed that the driver is positive to alcohol or drugs, per se. The driver is then prohibited from performing a safety-sensitive function such as driving a CMV.
It is worth noting that in case of the refusal to take the required test, the possession of the CDL in accordance with the procedure under the Administrative License Revocation (ALR) and the issuance of the temporary license interpreted as a receipt are authorized under the law.
Such receipt can be used by the driver up to the extent authorized by law since the CDL taken from the driver is still valid until the administrative revocation of the CDL prospers.
Leaving an accident scene
Accidents are unexpected, but drivers, especially CMV drivers, are required to literally not leave the scene of the accident in case it will occur. The law, or even conscience, requires drivers to stop, give aid or report to the authority, or notify the family, operator or owner of the other party.
In Cook County, leaving an accident scene is either a misdemeanor or a felony depending on the degree of damage it caused. If what is damaged is merely a property, the driver may be charged for a misdemeanor. But if there is injury or death, then the charge may escalate to a felony.
Driving a CMV when not allowed by law
A driver is not allowed to drive a CMV if his license was already canceled, suspended, or revoked, much more if he is disqualified by law.
It is worth noting that under the guidance provided by FMCSA, a driver is disqualified to operate a CMV even if he has a valid CDL issued by the State where he resides, but is suspended in other States due to violations of the law, even if it should not be related to a motor vehicle traffic control law.
Negligent driving of a CMV resulting in a fatality
According to an article found in Frederick and Hagle, the number of accidents in Illinois is high given the fact that Chicago is a prominent commercial destination in the US. The last time Illinois Department of Transportation released a statistics regarding truck accident was in 2014.
It shows that 10% of the 11,000 accidents involving semi-trailer trucks is the fatality rate. In truck accidents, 95% is the fatality rate and 1,902 pedestrians and motorists are injured.
Negligent driving resulting in fatality includes negligent homicide, homicide by motor vehicle, and motor vehicle manslaughter. These are felonies that disqualify you from getting a CDL.
The vehicle used to commit a felony and other felonies involving the manufacturing, distributing or dispensing a controlled substance
According to All Trucking, not all felonies are grounds to disqualify a driver from getting a CDL. But, there are offenses which do not allow a driver to get one, including those above mentioned and other felonies such as arson, bribery, extortion, smuggling, treason, kidnapping, and others as provided by law.
The disqualification for serious traffic violations includes
Excessive speeding
A CMV driver who runs a vehicle with 24.1kmph speed or more is violative of the rule. It is worth noting that a driver is disqualified for "excessive speeding" violation only if such is committed in a CMV. The driver is not disqualified if the violation merely involves his personal passenger vehicle.
Reckless driving
In Illinois, a driver who is found to be driving recklessly could be taken into custody by the police officer, especially if it is a CMV. Not only that, the vehicle will be towed and such will be a ground for the disqualification of the CDL.
Driving a vehicle in a wanton or willful manner without regard to the safety of persons or property is considered as reckless driving.
 Improper or erratic traffic lane changes
Here are some of the common forms of improper or erratic traffic lane changes:
If you fail to signal
If you did not check no-zones or blind spots
If you weave between traffic
If you frequently change lanes during traffic
If you pass in lanes where trucks are not allowed
Too close to another vehicle
According to an article in Smart Motorist, the two-second rule is the quickest and easiest way for a safe following distance. The reason for this is that the distance covered in two seconds is greater if the speed you travel is faster. That's why you need to maintain the two-second rule regardless of the speed traveled.
Driving a CMV without CDL or with CDL but not in possession thereto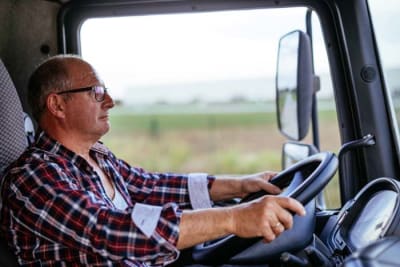 The law requires that a CMV driver should have a CDL, otherwise he is not allowed to drive a CMV. A CDL is a privilege granted to those who are qualified, as CMV drivers require skills in order to operate it smoothly. And to ensure that a driver is licensed, he should possess it every time he drives a CMV.
Texting and using of electronic device while driving
Illinois law prohibits the use of electronic devices while driving CMV, even if the traffic lights are red. Such is a serious traffic violation that may disqualify the CDL of the driver for two months if two serious traffic violations are committed within three years.
There are actually more disqualifications provided by law. But, we'll tackle that in the next article. Now, you should know the reason why you have to get a CDL.
Why CDL is required?
The degree of skills and knowledge required to drive commercial vehicles is different from driving a personal passenger vehicle. It is for that reason that Illinois requires CMV drivers to obtain CDL, be that a charter bus, a school bus, a tank vehicle, or a semi-truck.
Perhaps, it's already a privilege if you are granted with a CDL because not all people are allowed to drive 18-wheelers, delivery trucks, or large equipment vehicles. Having your CDL revoked or suspended is a serious matter, that's why in case of a moving violation, you have to contact an experienced Chicago CDL attorney.
If in case your loved one is involved with a truck accident and if you are not sure whether or not the driver has a CDL, or is required to have one, you can file a claim against the driver. If you have questions, don't hesitate to contact one of our best attorneys at Ktenas Law!